Registering as a Vendor
Go Up to AppWave ISV
You need to complete the registration process to upload your Apps and to have the option of posting these Apps on the AppWave. You can track all your Apps on the Manage Products area through the Vendor Reports page.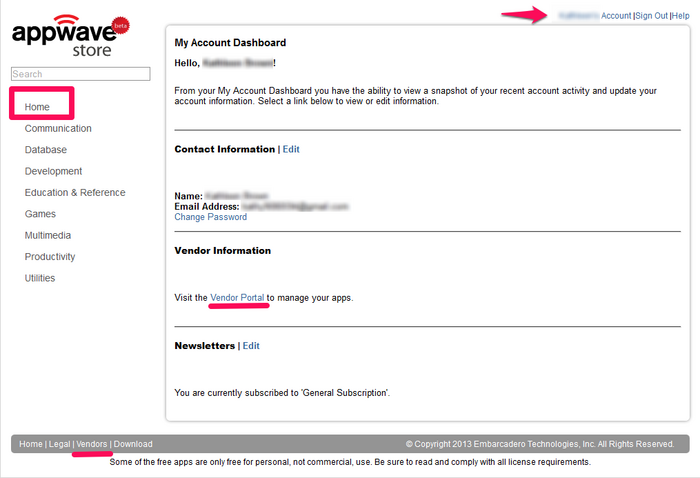 To register as a vendor:
In the AppWave Public Store http://www.appwavestore.com scroll down and click Vendors to open the Create a vendor Account page.
Complete the application for a new vendor account. All fields marked with an asterisk are required.

The Annual Store seller Fee of $99.00 is necessary to have your Apps listed in the Store. Embarcadero waives the first year's fee.
The Support Account is the email address for the Vendor's software support.

Click the Terms and Conditions link to review the Embarcadero AppWave Store Seller Participation Agreement.
Once you agree to these terms, click Submit. Your vendor account is submitted for approval and the My Account Dashboard opens. You will receive an email informing you that your vendor application is being processed.

Note: This approval typically takes one to three business days.

Once you are approved you can Sign In and view the Vendor Dashboard by clicking your account name.
On the Dashboard you can:

Edit your contact information
Change your password
Access the Vendor Portal (once you are approved, the Vendor Portal link is active)
Select the Newsletter Subscription option to receive email notification about new apps, updates, special offers, and pricing. This is selected by default.

Once you are approved as a vendor, you will receive a second email with the following information:

Note: An additional link of interest to ISV's is www.embarcadero.com/es/products/AppWave-isv-how-it-works

Click Vendor Portal and the Manage Products page opens. Manage Products is where you can view the Summary and Detail reports.
Logging into an Existing Vendor Account
If you have already created a Vendor account, take the following steps to gain access to the Manage Products page:
In the AppWave Public Store http://www.appwavestore.com click My Account and the Sign In dialog opens.

Enter your email and password, click Sign In, and the My Account Dashboard opens.
Click Visit the Vendor Portal to manage your apps and the Manage Products page opens.
Click Home and the AppWave Public Store opens where you can view all the available apps.
See Also