Session 10: General Utilities and Tools
Go Up to DBArtisan Tutorial exercises
No evaluation of DBArtisan would be complete without a mention of the general utilities and tools that are available across all of the supported platforms. The Utilities menu offers primarily DBMS-specific operations while those offered on the Tools menu are more generic.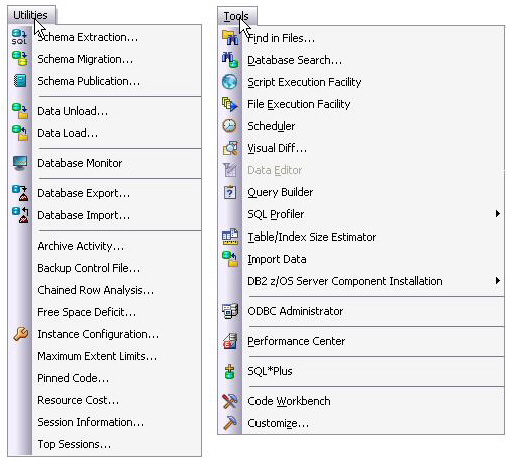 The Utilities menu contains the more advanced DBArtisan features. The available menu items are context-sensitive and version-specific for the selected datasource DBMS platform. This example above shows the Utilities menu features that are available for Oracle.
The Tools menu contains those features that are common across all DBMS platforms. The example above shows the Tools menu features that are available for all supported DBMS platforms. Note that if any other IDERA products are installed on your client they will be available on the Tools menu.
All DBArtisan utilities and tools provide a common interface that walks you through all input and execution requirements. All results are consistently presented so you can easily move between features without effort or confusion.