Connecting the Elements (Evaluation Guide)
Go Up to Session 3: Creating a Business Process Model Diagram (Evaluation Guide)
There are three different types of connectors used in the Business Process Modeling Notation: Sequence Flow, Message Flow, and an Association.
To complete our diagram we are going to use the Sequence Flow connector to connect all elements in the diagram.
1 Click the Sequence Flow icon () on the Business Process Toolbar.
2 Draw sequence flows between the following elements:

Start Event to Check Order task
Check Order task to Check Inventory task
Check Inventory task to Confirm Order Pull task
Confirm Order Pull task to the End Event
Error Intermediate Event to the Handle Fault task
Handle Fault task to the second End Event
This completes the process of creating the business process diagram. Your diagram should resemble the following graphic.

Notice that the Model View tree now displays the outgoing or incoming relationships for the elements.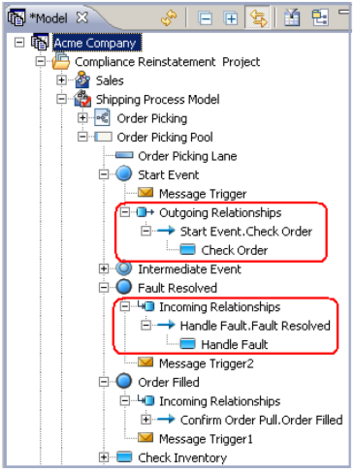 Session 3 Conclusion
In this session, you have learned:
How to create an element in either the Diagram View or in the Model View tree.
How to use the Property View.
Session 4 walks you through the steps necessary to create a Conceptual Model diagram.