Relationship
Go Up to Conceptual Model Elements
Relationships can only be defined between common object types. For example two business entities can have a relationship, but a business entity and a subject area cannot.
You can set Relationship properties using the Property View. These properties include the following:
You can add verb and inverse verb phrases which are then displayed in the Diagram View.
You can set the optionality of the relationship.
You can choose one of four different relationship types:
The selection you make is reflected on the beginning and ending indicator on the relationship.
You can set line style, line width, and source/target decorator size for the Relationship in the Property View under the Appearance tab.
You can also set global preferences for all the line display options in the Preferences.
The following diagram shows a one-to-many relationship with an optionality setting of Mandatory to Optional between two related Business Entities.

Setting the Optionality of a Relationship
Split-line notation appears when you set source/target optionality on a Conceptual Model relationship. The line display depends on the optionality selected for the relationship. The following options are available:
Optional to Mandatory
Mandatory to Optional
Optional
Mandatory
To set the optionality of a relationship
1 In the Diagram View, double-click the Relationship to open the Property View.
OR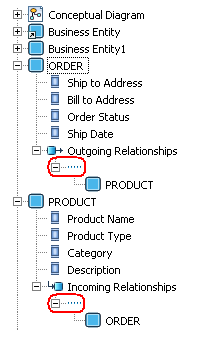 2 Select the Relationship Type from the drop down list and the Relationship display in the Diagram View changes to reflect the type chosen.
3 Select the Optionality from the drop-down list and the split-line notation displayed reflect the optionality chosen.
4 You can customize the end points using the Line Display Options in the Appearance tab of the Property View.