Using the Submodel Synchronization Utility
Go Up to Common Tasks
In the Data Model Explorer, select the source submodel.
Choose Model > Submodel Synch Utility.
Complete the pages of the Submodel Synchronization Utility and then click Finish to implement the changes to the view.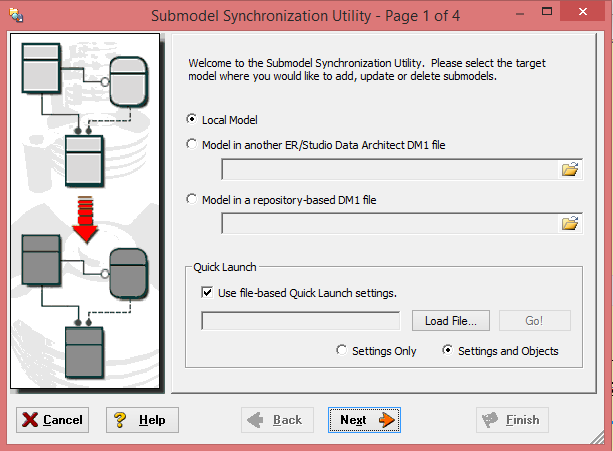 The following describe options that require additional explanation:
Page 1
For information on using the Quicklaunch utility, see Saving and Using Quick Launch Settings.
Page 2
Your changes to the source model can be merged into one target model. Select the target from the list or go back to the first page and use the file browser controls to load the *.dm1 for the target file. The submodels to be merged can be selected on page 4.
Page 3
Synchronize submodel display level: If selected, the settings specified for the submodel on the Diagram and Object Display Options dialog will be inherited by the target submodel.
Synchronize submodel hierarchies: If selected, synchronizes nested submodels.
Page 4
For each operation, select the submodels you want to synchronize with the target model. The available operations (update, delete) depend on the submodel chosen. If this is a frequently updated submodel, you may want to save all the wizard settings in a Quick Launch file. The file will load your selections when you next use the utility if you select it upon launching the utility. You can load the quick launch file and make changes to it and then save the changes if you want.
Notes
To make changes to both the source and target models, run the utility twice, reversing the source and target the second time you run the utility.
The available operations (update, delete) will depend on the submodel chosen and the differences that exist between the source and target submodels. For example, if the source contains updates not reflected in the target, then the update operation will be available.
See Also