ETL Import
Go Up to ETL
When using the MetaWizard Import in tandem with a Data Lineage for ER/Studio license the imported data lineage information from ETL tools such as Microsoft SQL Server 2012 Integration Services (SSIS)® is imported and is shown in Data Flows in the Data Lineage tab.
To import with the MetaWizard Import, please follow these steps after having registered the Data Lineage license:
In ER/Studio please select File > Import File > From External Metadata.
In the dialog that appears, in the Import From dropdown please select the tool you wish to import ETL/Data Lineage information from.

Once in the Import From the tool is selected, in the area below you will see related information.
You can then proceed with the wizard until completion, selecting the necessary options such as the level of consistency checking, etc.
When the import has finished, you can view your Data Flows using the Data Lineage tab of the Model Explorer in ER/Studio Data Architect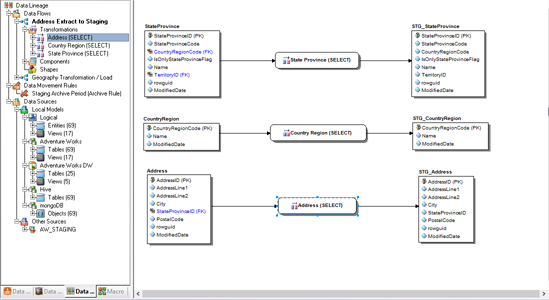 See Also