Creating an Animated Indeterminate Progress Ring
Go Up to Developing Metropolis UI Applications
Your FireMonkey Metropolis UI applications can use the Windows 8 signature progress ring (the indeterminate progress ring). The indeterminate progress ring is a set of animated dots that whirl around a center point, and accelerate and decelerate: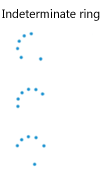 To implement a Windows 8 style indeterminate progress ring:
Create a Metropolis UI application using one of the Metropolis UI wizards/templates.
Drop a TAniIndicator on the form.
Right-click TAniIndicator and select Edit Default Style from the context menu.
Click Load and select the Metropolis UI style you want. Navigate to the Styles directory if necessary:

C:\Users\Public\Documents\Embarcadero\Studio\20.0\Styles

In the Object Inspector, select TAniIndicator and:

Set the Enabled property to True.
In the StyleLookup field, select aniindicatorstyle (the only choice).
Now your Metropolis UI application uses the Metropolis UI indeterminate progress ring.

For more information, see Quickstart: adding progress controls (Windows 8 style apps using JavaScript and HTML).
See Also