Show: Delphi C++
Display Preferences
New LiveBinding
From RAD Studio XE2
Go Up to LiveBindings in RAD Studio
Go Up to LiveBindings Dialog Boxes

The New LiveBinding dialog box appears when you attempt to create a new LiveBinding in your application. From within the New LiveBinding dialog box, you are prompted to select a binding class for your new LiveBinding. The available binding classes are:
Binding Expressions:
Links:
Lists:

TBindLink is used when binding components to lists. You can populate a list with multiple data returned by a binding expression.
TBindGridList is similar to TBindList, but works on grids.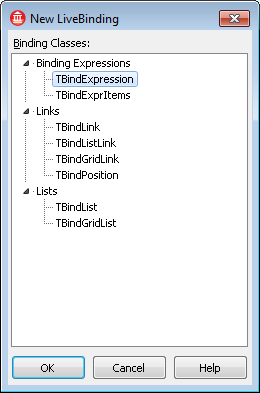 To validate your selection, click OK.
At this point, your new LiveBinding should appear in the Object Inspector as well as in the bindings list present on your form.
See Also
Code Examples