Show: Delphi C++
Display Preferences
Live Tile Support for Metropolis UI Applications
From RAD Studio
Go Up to Developing Metropolis UI Applications

Windows 8 provides a completely new Start screen made up of Live Tiles. On the Start screen, you can start applications that are associated with the Live Tiles, and see the latest status from those applications. Windows 8 Style applications can provide status to a Live Tile, and icons (or Static Tiles) for traditional Desktop applications work as Start menu items did in previous Windows versions.
The TLiveTile component provides the ability to update a Live Tile from Metropolis UI applications (FireMonkey or VCL) through a series of services layers, as follows:
Metropilis UI Application: You can access your Live Tile through the TLiveTile Component, which pushes information to a service called MetropolisSvc.
MetropolisSvc: This service application is a local REST service, and communicates between your application and your Live Tile.
Live Tile: A Live Tile is a Windows Runtime-based application that represents your application on the Window 8 Start Screen.

Live Tiles receive changes from your Metropolis UI Applications via MetropolisSvc as a background task.
You need to create and deploy one Live Tile for each Metropolis UI Application.

LaunchAgentHost: This is a task-tray application that brings the Windows desktop and your Metropolis UI application to the foreground when the user clicks the associated Live Tile.

The following diagram summarizes the relationship between these components: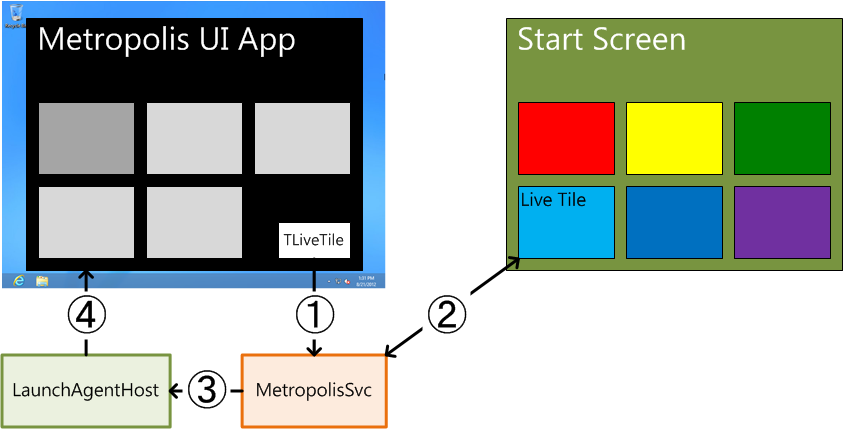 The application sends update information to MetropolisSvc through the TLiveTile component.
Your Live Tile receives changes from your Metropolis UI application via MetropolisSvc once per minute. When a user clicks the Live Tile, it sends a message to MetropolisSvc.
MetropolisSvc tells LaunchAgentHost, a task-tray application on the Windows desktop, to open the Windows desktop and display the Metropolis UI application in the foreground.
LaunchAgentHost brings the Metropolis UI application to the foreground.
Topics