Adding Packages
From RadPHP XE Documentation
Summary: Describes how to add packages to the list of packages installed in RadPHP XE.
When you create custom components, you also create a package file which you register, or install, with the RadPHP XE IDE. A package file is simply a  .php file which passes information to the IDE about that package such as which components to add to the RadPHP XE "Tool Palette", and it includes the RPCL and a special unit containing functions for communicating with the IDE.

Important: You must save your package and component files in the RadPHP XE  rpcl folder if you want to install your components on the RadPHP XE "Tool Palette". Putting your components into subfolders enables you to build your own libraries without affecting the RPCL code base and makes deployment easier. To add a package to the installed packages list in RadPHP XE
Component

Packages to open the "Installed Packages" dialog box.
Click the "Add" button, then navigate to the package file for your component and click "Open".
| | |
| --- | --- |
| Tip: | To view the list of components in the package being installed to the "Tool Palette", select your new package then click the "Components" button. Click "OK" to return to the "Installed Packages" dialog box. |
Click "OK" to close the "Installed Packages" dialog box.
Now expand the "Tool Palette" page on which you installed your custom components and you should see your custom components.
PHP Packages can be installed and removed from the Component | Packages dialog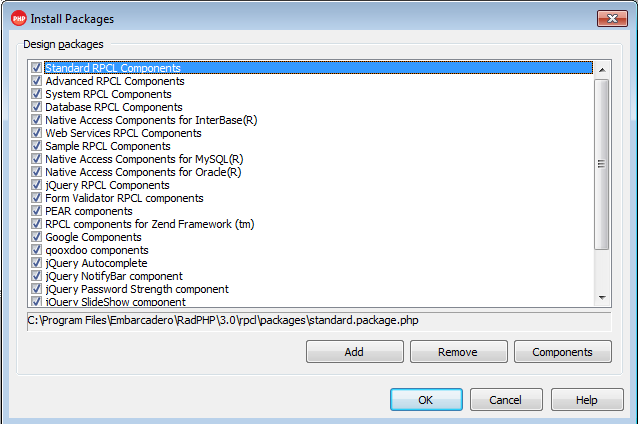 This dialog shows a list of all the current installed packages, packages can be installed, but disabled, that is, are not loaded into the IDE, in this case, are shown on the list, but their checkbox is unchecked.
Clicking the packages list, the path to the package must be shown on the bottom panel, clicking the Add button must request the user for a .package.php file to add and after that, install the selected package. If any error is produced, must be processed correctly and show that information to the user, if no error is caused, will be added to the packages list.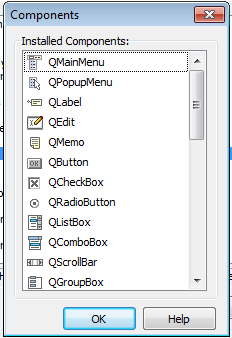 The components button must show a dialog with a list of components that are contained inside that package, the list must show the icon and the name for the component, if no icon has been registered for a component, a noicon bitmap will be shown. That bitmap resides in <radphpxe>\help\noicon.bmp, and is also used to represent non-visual components on the form designer when there is no icon for it.
Unchecking the box of a package, must uninstall that package, their components must not longer be on the Tool Palette, nor any of their resources, like property editors, values, etc. Checking a package, must install that package again and their components must be populated on the Tool Palette.
Remove a package must request for permission to do so, will uninstall the package and remove it from the list of installed packages. Packages are stored on the registry, are stored using full paths, the status of the check box is also stored. Packages are loaded when the IDE is loaded
See also