Data Manager
From RadPHP XE2 Documentation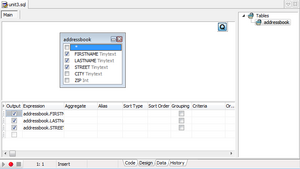 Data Manager lets you work with your databases the RAD way. You can use it to develop complex queries on even more complex databases, all from a visual interface.
To access to the Data Manager:
Open a connection to a database on the Data Explorer (if you didn't do it already).
Right-click your database connection entry on the treeview.
Choose SQL Window.
Views
The Data Manager includes four views you can access from its bottom tabs:
Code

This is the Query Editor, where you can write raw SQL queries to be performed against your database. It includes SQL syntax highlighting. Query is performed as soon as it is written, you can watch the results from the Data Viewer you can access through the Data tab.
Design

This is the Database Designer, where you can work with your database in a visual way. Everything you do in the Designer will get synchronized with the Query Editor, and vice versa, so you can graphically design complex queries and then just see the code on the Query Editor. The Designer is a powerful tool, and the more complex your databases are, the more handy this feature becomes. You can watch the results of the query from the Data Viewer you can access through the Data tab.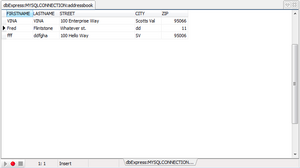 Data

This is the Data Viewer, where you can watch the results of the query you are working on in a grid. You can also modify those results, and even add new rows.
You can also call the Data Viewer for a given table. Right-click the desired table in the Data Explorer and then choose Retrieve Data From Table.
History

The Query History is where all your queries are saved for later reuse.