Structure
From RadPHP XE2 Documentation
When a form is open in the visual designer (when the "Design" tab is selected)
The Structure window shows the components displayed on the Designer, they are grouped by parent, that is, all children components of a control are shown as child items on the treeview.
You can also change the parent control for a component just by dragging it and dropping inside another container.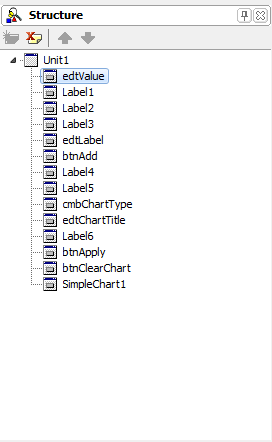 When a source code file is open in the code editor (when the "Code" tab is selected)
The Structure window displays the Code Explorer where you can see the hierarchy of source code displayed in the Code Editor. Each language supported by the IDE has an special structure view, being the PHP syntax the most powerful one, as it detects many types of elements (classes, method, uses).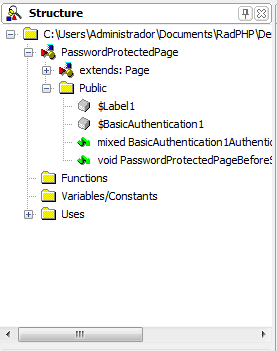 When displaying the structure of source code, you can double-click an item to jump to its declaration or location in the Code Editor. When displaying components, you can click on a component to select it on the form.
If your PHP code contains syntax errors, they are displayed by Error Insight in the Errors node in the Structure window. You can double-click an error to locate the corresponding source in the Code Editor.