Tool Palette
From RadPHP XE2 Documentation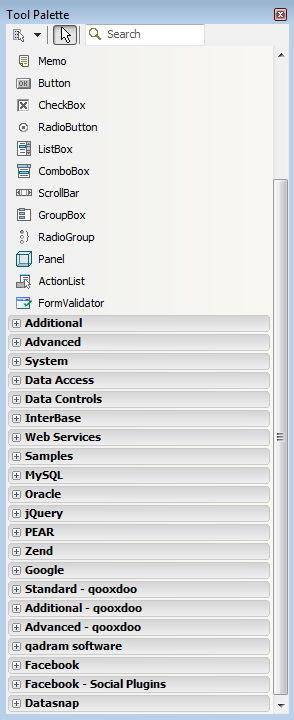 Tool Palette lists RPCL components so you can add them to a form. You can access it from View > Tool Palette.
Usage
Tool Palette usage is quite straightforward:
Locate the component you want to add to the Designer.

Components are grouped into different sections, you can scroll down to see the whole list. To expand a section and see the components inside it, click section's title or + button. To hide back its components, click its title again, click its - button, or expand a different section.
Use the search box in the top part of the Tool Palette to search for a certain component if you know its name, or part of it.

Add the component to the Designer. You can do that it several ways:

Double-click the component.
Click the component and click then the place on the Designer where you want the component to be placed.
Drag and drop the component into the Designer.
Features
Context-aware Components
Component availability will change depending on the type of document you are working on.
HTML Components will only show for forms and templated forms.
RPCL Components will only show for HTML documents and templated forms.
Custom Components
You can also create custom components based on RPCL components and install them on the palette for future use in your application development.