What's New
Go Up to Getting Started with Team Server
Team Server installer now includes Repository 16.5.x (2016+).
You can find information on previous versions in the side bar.
16.5.1 (2016+) Features Summary
There are no new features in this release.
16.5 (2016+) Features Summary
Universal Mappings Enhancements
ER/Studio Enterprise Team Edition 16.5 expands universal mapping to show the universal mappings of an object in Team Server. Universal mappings are created and managed in ER/Studio Data Architect and Repository that allow users to map Entity/Table and Attribute/Column objects across design layers including conceptual, logical, and physical models. This feature lets users view other locations of similar tables/entities or columns/attributes from the Description page of the ER Object page. For more information about universal mappings, see Attribute/Column Description Page, Entity/Table Description Page, or "Working with Universal Mappings" in the ER/Studio Data Architect online help.
Database Platform Support
ER/Studio Repository 16.5 now includes database platform support for IBM DB2 for z/OS v11.x and SQL Server 2016 (does not include support for SQL Server JSON capabilities). For more information about supported platforms, see Database Server Requirements.
Collaboration and Control
Improved Glossary integration
ER/Studio XE7 introduced the ability to automatically link your Team Server glossaries directly into the ER/Studio interface. ER/Studio Enterprise Team Edition 16.5 continues to improve this feature by allowing association of specific models or sub-models in a .dm1 file and repository to be associated with a specific glossary. That glossary then can provide the scope when trying to detect and link terms to the model objects. If a glossary term is used in the Name, Definition, or Notes of a model object, it is highlighted to identify that you have a definition in your Team Server Glossary. Holding your mouse cursor over the highlighted term pops up the short definition while control-clicking on the term will navigate to that term in the Team Server Glossary. For more information about using Team Server glossaries, see Working with Glossaries.
Enhanced change management functionality
ER/Studio Enterprise Team edition includes additional features to expand the support for Agile change management. ER/Studio XE7 introduced the ability to create tasks to represent Agile user stories or tasks within ER/Studio Data Architect. Users now can associate tasks from third-party tools, such as Atlassian JIRA, to specific projects available within the Repository Project Center. Similar support also is expanded in Team Server, where you can add, change, and delete the same tasks using the new Change Management Center available from the Admin tab on My Settings. JIRA is the only issue- and project-tracking tool supported in this release. For more information about using this feature, see Change Management Project Setup in the Team Server online help, and see "Change Records" and "Working with Repository Projects" in the ER/Studio Data Architect online help.
Improved User Experience through Updated Interface and Features
IDERA Rebranding
This release begins a rollout of rebranding this product from Embarcadero to IDERA. Note that these changes include a new license agreement, installation and data directories, icons, file names, registry settings, and more. For more information about IDERA and IDERA products, see https://www.idera.com/.
Supports rich text functionality on entry fields
All fields where a user can type names, definitions, notes, etc. now include a spell check, allow some rich text functions such as bold and underlined text, and support embedded hyperlinks. In larger fields, a text wrap feature also was implemented. Available rich text options include:

Text font, color, and size
Bold, italics, and underline
Format and alignment options including bullets
Hyperlink capability
Improved follow capability in Team Server
Team Server 16.5 allows you to follow some ER Objects such as glossaries and terms using Cascading Follow Hierarchy (CFH). CFH means that when a user chooses to follow an object in a parent/child hierarchy, any changes made to lower-level "child" objects also flag the upper-level "parent" as changed, and sends you notification in your Activity Stream and email. For more information about this feature, see Following Resources.
Updated Team Server installer
The ER/Studio Team Server installer includes the following updates:

removes any previously-installed Performance IQ components including the Metrics tab
determines if the installation is for ER/Studio Professional or ER/Studio Enterprise Team Edition and asks questions accordingly
Implemented unique tokens to identify repository checkout records
In this release of ER/Studio Data Architect and ER/Studio Business Architect, checkouts now include a unique identifier or token to easily resolve identification issues when attempting to check in a workspace to the Repository. Previously, workspace checkouts included the host machine name as part of the identifier in the checkout record. This process caused issues in virtualized environments when the host names did not match upon reconciliation at check in, perhaps because the user disconnected from the repository before checking in the work.
Changed the Start Here page to the Welcome page
The Start Here page now is the Welcome page. This page includes informal messages that explain more about ER/Studio products, links to commonly-used resources such as the Resources Center and Community pages, and links to useful tutorials that give you insight into certain features and functions of Team Server.
16.1.5 Features Summary
The 16.1.5 patch release is specific to the ER/Studio Repository and Team Server, which share a common database, installer and configurator. Therefore, it is applicable to customers using ER/Studio 2016 Professional Edition and ER/Studio 2016 Enterprise Team Edition.
Despite the Team Server patches released earlier this year, we were still finding bugs and performance bottlenecks in some very large customer environments. We recognized that we needed a creative solution, so we did the following:
3 very large customer environments were identified as collectively representing the range of complex model types, data volumes and usage patterns for the Team Server install base overall
We obtained current backups of those environments from the customers and restored them to our servers
We established target benchmarks for upgrade, conversion and operational usage in those environments
We collaborated with our development partner and QE partner to assess, re-mediate, develop and test against all 3 of the environments
The following are a few metrics to highlight the results that have been achieved:
The Team Server/Repository database has over 700 tables to store the metadata used by the applications in the ER/Studio suite
The largest of the 3 customer databases that was converted and upgraded was 93 GB
The 3 environments combined contained > 3,300 complex data models with > 34 million diagram objects
One of the environments had 450 business architect workspaces with an average of 200 versions each, for a total of 9,000 workspace versions
Many of the converted tables contained more than 10 million records each. Several were much higher with highest count of >83 million records in one table
Performance in several areas of the migration and upgrade process is > 20 times faster than it was previously
In one environment, check-in time of a very complex model is now 30 times faster
Some processes would not have completed successfully in these environments without the code changes that were made
Upgrade processes in large environments that would previously have taken months to finish can now be completed successfully in a matter of days.
16.1.1 Features Summary
Synchronization Process has been automated
Now you do not need to synchronize your diagrams on Team Server. They automatically synchronize when you check in the diagram to the Repository.
ER/Studio Publications
You decide what diagrams are public or not. You can define the privacy level on the new ER/Studio Publications page.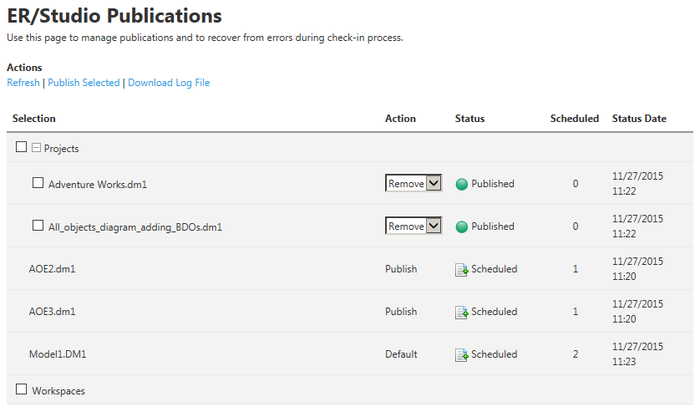 New ER/Studio BDO's Integration
Business Data Objects (BDO) are containers for describing a business concept. They are integrated now on Team Server.
For more information about BDO's please see: Creating and Editing Business Data Objects
Interactive Diagram Viewer
The new diagram viewer allows you to interact with diagrams. You can move entities, modify colours, change the focus, and many different options. Then, you can save this view as a picture or directly print it.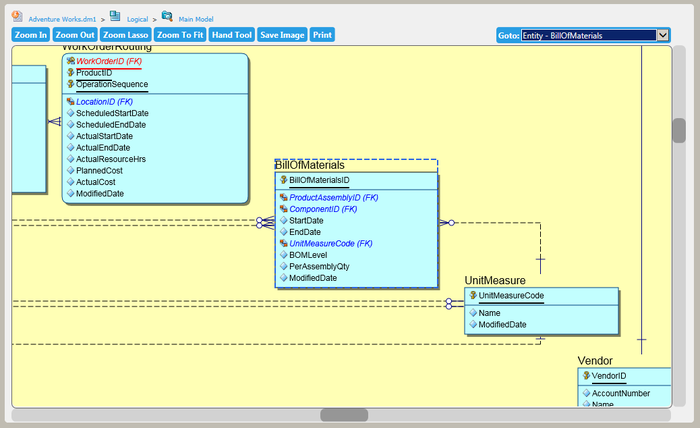 New Migration Process During the Installation
When you are installing Team Server 16.1.0 you have the chance not to just migrate the schema of your previous Repository and Team Server databases but also migrate the metadata in a proper way to work with the new automated synchronization process.
16.0.0 Features Summary
bit client now available
Team Server and Repository now run as a native 64-bit application.
Team Server Users Creation
Now, you can create users directly within Team Server. These users will be just Team Server exclusive users, not being able to connect to Repository.
Login Credential API
Team Server introduces a new API feature to allow you to include Login Credentials in your API requests.
Improvements
Stewards Redesign.
Now you can create login credential at the same time you are creating a data sources.
Performance increase on synchronization process.
Java version update to Java 8.
See Also