Glossary Tool Tip
Go Up to Working with Glossaries
Glossary Tool Tips are links to your Team Server Glossaries of matched words and phrases in your browser. When you browse any web page that is in your list of configured sites, matched Terms are automatically highlighted.
The page below is an example of a pop-up definition of the underlined Term.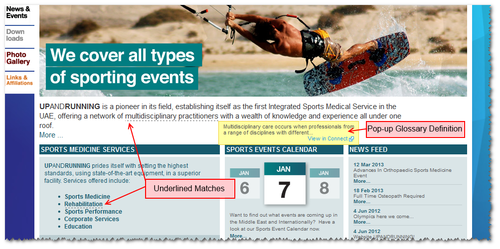 The underlined matches are Terms found in your Team Server installation. When you hover your mouse over the underlined word, the pop-up box will show the first definition found in your list of Terms. A link is provided to open your browser to your Team Server pages of the related Term, where you can browse your company Glossaries for other related Terms and ER Objects.
After your Glossary Tool Tips are enabled, browsing on any web page that has been configured to be included will cross reference any matching Terms in your Team Server installation.

Note: Glossary Tool Tip is currently only available for Firefox web browser and requires Greasemonkey Add-on.

Note: You do not need to be signed in to Team Server to use Glossary Tool Tip, however if your Team Server installation uses a secure HTTPS connection then the Team Server's digital certificate must have previously been accepted/imported/installed.
See Also