User Description
Go Up to Person Pages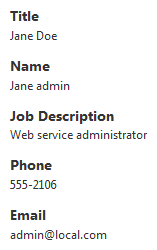 The Description subpage of person pages provides detailed information about a user.
The page provides the following fields:
Item
Description

Title

User display name.

Team Server displays the user display name in the header of person pages, below the user name.

Name

First and last names of the user.

Job Description

Detailed description of the user's job.

Phone

Telephone number where you can reach the user.

Email

Email address of the user.
See Also