Using Social Features
Go Up to User Guide
Team Server provides two different user profiles: social and non-social. The social version of Team Server is a useful system for users to share their experiences with other users and keep track of the activity related to the resources of their interest.
The content of this page focuses on the features that Team Server offers to social users. These features are not available for non-social users. See Overview of User Experiences to understand the main differences between these two experiences.
Interface for Social Users
You can access features and settings with the User Menu of the interface and search for any resource in the Reporting Repository using the Global Search Box option. The interface also includes a Navigation Menu with the main Team Server features. See Overview of the User Interface for more information about the interface.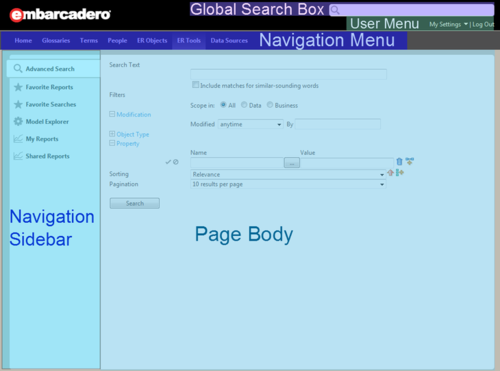 Interaction with Resources
You can interact with any resource (glossaries, terms, ER objects, and data sources). Interaction includes having discussions (making comments) with other users about resources, tracking the changes and discussions related to resources and following people activity surrounding resources. For that purpose, you can use the following features:
The Stream page shows the activity related to the current resource. This activity involves changes surrounding resources, such as start following a resource, as well as comments related to these changes. The activity stream is shown on the Home page and on the current resource pages. On the Home page, you can filter the content in the activity stream. See Stream page for more information.
You can see and edit comments related to a resource using the Discussions Tab of the navigation sidebar. In the current resource page, you can select the Discussions option to see the conversation about this resource or start a new one. A discussion can be expanded to show other users' comments. Each entry displays the image, the username and the actual text of the author and the date when the author wrote the reply. See Discussing Resources for more information.

Note: Team Server shows comments related to an ER Object made in ER/Studio Data Architect. To view the comments click the icon next to the ER Object in the Model Explorer.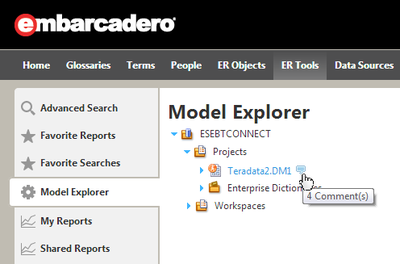 You can track other users' activity in relation to resources. This activity appears on the Home page when people that you are following edit resources, post comments to resources, and so on. The Following a Resource feature provides a practical tool for the personalization of the system according to the user's interests. See Following a Resource for more information.
See Also