FMXTBrush (Delphi)
Description
This example is a Multi-Device Application that demonstrates how to use different properties of TBrush.
This example requires the following components:
The form should look like in the following image.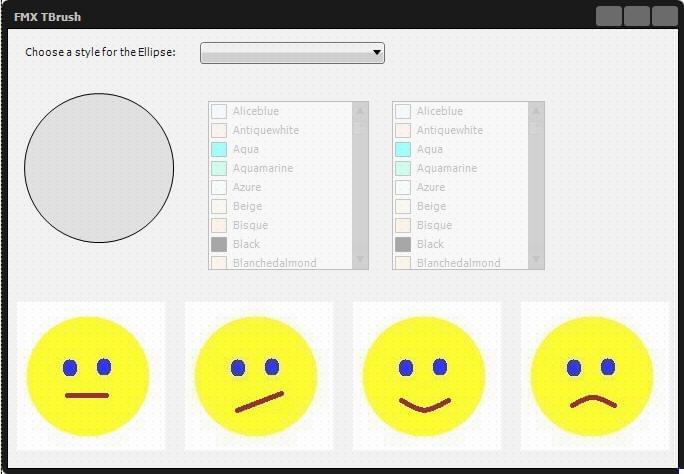 Disable all the components, except the Ellipse, the ComboBox, and the Labels. Set the text to the labels as null ( ' ' ), except for the one above the ComboBox. Set its text to 'Choose a style for the Ellipse:' . Load different Bitmap files to the Bitmap property of the Image objects.
Code
//Delphi





procedure

 

TForm1

.

ColorListBox1Change

(

Sender

:

 

TObject

)

;




begin


  

// Verify the Style of the TBrush and use the selected color accordingly (as the color of the brush or as the first gradient color)


  

if

 

(

Ellipse1

.

Fill

.

Kind

 

=

 

TbrushKind

.

Solid

)

 

then


    

Ellipse1

.

Fill

.

Color

 

:=

 

ColorListBox1

.

Color


  

else


    

Ellipse1

.

Fill

.

Gradient

.

Color

 

:=

 

ColorListBox1

.

Color

;




end

;





procedure

 

TForm1

.

ColorListBox2Change

(

Sender

:

 

TObject

)

;




begin


  

// Use the selected color as the second color of the gradient


  

Ellipse1

.

Fill

.

Gradient

.

Color1

 

:=

 

ColorListBox2

.

Color

;




end

;





procedure

 

TForm1

.

FormCreate

(

Sender

:

 

TObject

)

;




begin


  

Ellipse1

.

Fill

.

Kind

 

:=

 

TbrushKind

.

None

;




end

;





procedure

 

TForm1

.

Image1Click

(

Sender

:

 

TObject

)

;




begin


  

// Set the Brush's pattern to be the first image


  

Ellipse1

.

Fill

.

Bitmap

.

Bitmap

 

:=

 

Image1

.

Bitmap

;


  

Ellipse1

.

Repaint

;




end

;





procedure

 

TForm1

.

Image2Click

(

Sender

:

 

TObject

)

;




begin


  

// Set the Brush's pattern to be the second image


  

Ellipse1

.

Fill

.

Bitmap

.

Bitmap

 

:=

 

Image2

.

Bitmap

;


  

Ellipse1

.

Repaint

;




end

;





procedure

 

TForm1

.

Image3Click

(

Sender

:

 

TObject

)

;




begin


  

// Set the Brush's pattern to be the third image


  

Ellipse1

.

Fill

.

Bitmap

.

Bitmap

 

:=

 

Image3

.

Bitmap

;


  

Ellipse1

.

Repaint

;




end

;





procedure

 

TForm1

.

Image4Click

(

Sender

:

 

TObject

)

;




begin


  

// Set the Brush's pattern to be the fourth image


  

Ellipse1

.

Fill

.

Bitmap

.

Bitmap

 

:=

 

Image4

.

Bitmap

;


  

Ellipse1

.

Repaint

;




end

;





// Set the style of the TBrush according to the selected option and




// enable the components needed to set the other TBrush properties





procedure

 

TForm1

.

ListBoxItem1Click

(

Sender

:

 

TObject

)

;




begin


  

Label3

.

Text

 

:=

 

'Choose a color:'

;


  

Label4

.

Text

 

:=

 

''

;


  

Label2

.

Text

 

:=

 

''

;


  

Ellipse1

.

Fill

.

Kind

 

:=

 

TbrushKind

.

Solid

;


  

ColorListBox1

.

Enabled

 

:=

 

True

;


  

ColorListBox2

.

Enabled

 

:=

 

False

;


  

Image1

.

Enabled

 

:=

 

False

;


  

Image2

.

Enabled

 

:=

 

False

;


  

Image3

.

Enabled

 

:=

 

False

;


  

Image4

.

Enabled

 

:=

 

False

;




end

;





procedure

 

TForm1

.

ListBoxItem2Click

(

Sender

:

 

TObject

)

;




begin


  

Label3

.

Text

 

:=

 

'Choose the top color:'

;


  

Label4

.

Text

 

:=

 

'Choose the bottom color:'

;


  

Label2

.

Text

 

:=

 

''

;


  

Ellipse1

.

Fill

.

Kind

 

:=

 

TbrushKind

.

Gradient

;


  

ColorListBox1

.

Enabled

 

:=

 

True

;


  

ColorListBox2

.

Enabled

 

:=

 

True

;


  

Image1

.

Enabled

 

:=

 

False

;


  

Image2

.

Enabled

 

:=

 

False

;


  

Image3

.

Enabled

 

:=

 

False

;


  

Image4

.

Enabled

 

:=

 

False

;




end

;





procedure

 

TForm1

.

ListBoxItem3Click

(

Sender

:

 

TObject

)

;




begin


  

Label2

.

Text

 

:=

 

'Choose an image:'

;


  

Label3

.

Text

 

:=

 

''

;


  

Label4

.

Text

 

:=

 

''

;


  

Ellipse1

.

Fill

.

Kind

 

:=

 

TbrushKind

.

Bitmap

;


  

ColorListBox1

.

Enabled

 

:=

 

False

;


  

ColorListBox2

.

Enabled

 

:=

 

False

;


  

Image1

.

Enabled

 

:=

 

True

;


  

Image2

.

Enabled

 

:=

 

True

;


  

Image3

.

Enabled

 

:=

 

True

;


  

Image4

.

Enabled

 

:=

 

True

;


  

Ellipse1

.

Fill

.

Bitmap

.

WrapMode

 

:=

 

TWrapMode

.

TileStretch

;




end

;



Uses
See Also