VCLStringHandling (C++)
Description
This example is a VCL Form application that shows how to handle strings in a VCL Form. The application uses basic string operations and methods to modify the Caption property of a TStaticText.
To build and test this example, create a VCL Form Application - C++, then add the next objects to the form:
At this moment the form should look like in the following image.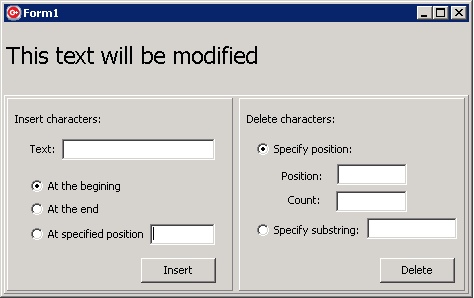 Code
Add the following code to the OnCreate event handler of the VCL Form:
// ---------------------------------------------------------------------------




void

 

__fastcall

 

TForm1

::

FormCreate

(

TObject

 

*

Sender

)

 

{


	

beginingRadio

->

Checked

 

=

 

true

;


	

delPositionRadio

->

Checked

 

=

 

true

;


	

staticText

->

Caption

 

=

 

"This text will be modified"

;




}



Add the following code to the OnClick event handler of the insertButton:
// ---------------------------------------------------------------------------




void

 

__fastcall

 

TForm1

::

insertButtonClick

(

TObject

 

*

Sender

)

 

{


	

int

 

position

;



	

if

 

(

beginingRadio

->

Checked

)

 

{


		

staticText

->

Caption

 

=

 

textEdit

->

Text

 

+

 

staticText

->

Caption

;


	

}


	

else

 

if

 

(

endRadio

->

Checked

)

 

{


		

staticText

->

Caption

 

=

 

staticText

->

Caption

 

+

 

textEdit

->

Text

;


	

}


	

else

 

if

 

(

insPositionRadio

->

Checked

)

 

{


		

try

 

{


			

position

 

=

 

StrToInt

(

insPositionEdit

->

Text

);


			

staticText

->

Caption

 

=

 

staticText

->

Caption

.

Insert

(

textEdit

->

Text

,


				

position

);


		

}


		

catch

 

(

Exception

&

 

e

)

 

{


			

ShowMessage

(

e

.

ToString

());


		

}


	

}




}



Add the following code to the OnClick event handler of the deleteButton:
// ---------------------------------------------------------------------------




void

 

__fastcall

 

TForm1

::

deleteButtonClick

(

TObject

 

*

Sender

)

 

{


	

if

 

(

delPositionRadio

->

Checked

)

 

{


		

try

 

{


			

int

 

position

,

 

count

;


			

position

 

=

 

StrToInt

(

delPositionEdit

->

Text

);


			

count

 

=

 

StrToInt

(

countEdit

->

Text

);


			

staticText

->

Caption

 

=

 

staticText

->

Caption

.

Delete

(

position

,

 

count

);


		

}


		

catch

 

(

Exception

&

 

e

)

 

{


			

ShowMessage

(

e

.

ToString

());


		

}


	

}


	

else

 

if

 

(

substringRadio

->

Checked

)

 

{


		

staticText

->

Caption

 

=

 

StringReplace

(

staticText

->

Caption

,


			

substringEdit

->

Text

,

 

""

,

 

TReplaceFlags

()

 

<<

 

rfReplaceAll

);


	

}




}



Uses
See Also