Licenses
Go Up to Administration Pages

The Licenses view shows the licenses that are hosted by the ELC server.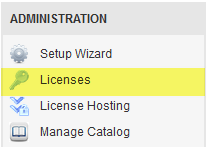 To choose different views of the current licenses, select one of the following radio buttons:
All: All licenses are displayed
Active: Licenses that have at least 1 unit in use
Available: Licenses that have at least 1 unit available
Maxed out: Licenses that have no units available
Information is displayed in the following columns:
License Name: Name of the license
License Type: Type of the license - user license (Named) or concurrent license (Concurrent)
Units: Total number of units for a specific license
Used: Number of used (active) licenses
Revoked: Number of licenses you have removed from users
Remaining: Number of free (inactive) licenses
Expiration Date: Expiration date of the license or Unlimited - license that does not expire.
Certificate number(s): The certificate(s) used to obtain the license

License files: Clicking this button shows further details regarding your license certificates.
Package Title: The name of the product certificate.
Contained Licenses: The number and type of licenses contained within the certificate.
Certificate No.: The unique number of each certificate.
File Name: The name(s) of the zip/slip files on your hard drive.
Actions: You can download or delete the license files.
See Also