Package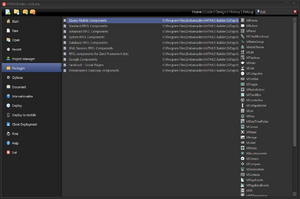 RPCL packages define components you can add to your applications from the Tool Palette. HTML5 Builder includes some built-in components, but you can also use your own or third-party packages if you want, you just need to install them on HTML5 Builder.
Install
To install a third-party or custom RPCL package into HTML5 Builder:
Copy the files of the package into HTML5 Builder's RPCL directory.

Note: It is recommended that you place them on a subfolder to separate them from the rest of the RPCL code.

From HTML5 Builder, go to Home > Packages, and click .
Locate your package file (.package.php), select it and click Open.
Disable or Enable
To disable a package so its components do not show up in HTML5 Builder, go to Home > Packages and remove the mark from the checkbox for the target package.
To enable a disabled package, just mark the checkbox again.
Remove
To remove an RPCL package from HTML5 Builder, go to Home > Packages, select the target package and click

.
The package will not be available on HTML5 Builder anymore, although it won't be removed from the filesystem.
Reload
If you changed the source code of a package, follow any of these methods to get HTML5 Builder to read the changes:
See Also