FMX.StdActns
Provides the standard action classes that are available in FireMonkey, including TVirtualKeyboard, TFileExit, and TWindowClose. Also see FireMonkey Actions.
Creating new standard actions, the programmer should, if this is possible, place the code of these standard actions into this unit (into the FMX.StdActns.pas file).
To show new created standard actions in the IDE's Action List editor (see the image) you should register these standard actions calling to the System.Actions.RegisterActions method.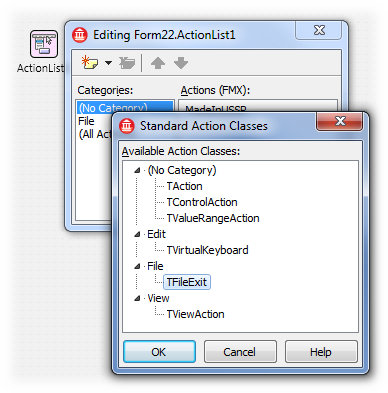 If you need that the Action List editor provides the default properties to a new standard action, insert a field to store an object of this standard action type into the TStandardActions class in the FMX.ActnRes unit.
Classes
Constants
| | |
| --- | --- |
| DefaultMaxValue | DefaultMaxValue: Comp = 100; |