FireMonkey Quick Start Guide - How to Find Additional Information
Go Up to FireMonkey Quick Start Guide - Introduction

If you have any questions about any FireMonkey classes, methods, properties or events, try the context-sensitive help first. Context-sensitive help is enabled throughout the RAD Studio IDE.
Just select a component on the Form Designer, a property on the Object Inspector, a component on the Tool Palette, or even an identifier in the Code Editor, and then press the F1 key on your keyboard: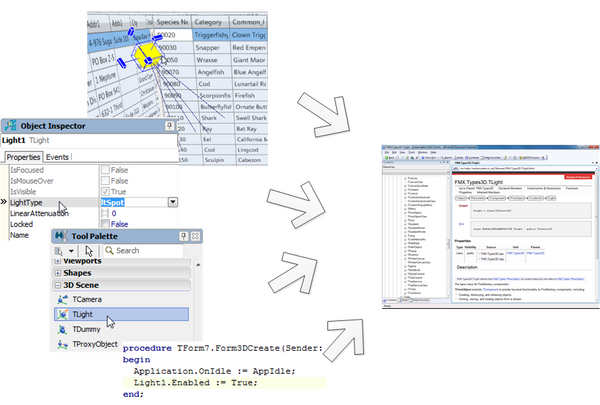 Help topics are updated daily on the docwiki, and the newly updated pages are released periodically as help updates.
Online Help:
FireMonkey Code Examples: http://docwiki.embarcadero.com/CodeExamples/en/Category:FMX.
FireMonkey Sample Code: As a part of RAD Studio installation, there are many ready-to-use application code samples. You can find them at C:\Users\Public\Documents\RAD Studio\<n.n>\Samples\FireMonkey.
These demo applications are linked to a subversion repository at https://radstudiodemos.svn.sourceforge.net/svnroot/radstudiodemos/branches/RadStudio_XE2/ and they are constantly updated.
The application samples are documented in the help at Category:Sample.