Connecting to Embarcadero Connect
Go Up to User Guide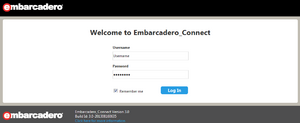 To connect to a running instance of Embarcadero Connect:
Open a web browser. See Supported Web Browsers.
Browse to the Embarcadero Connect URL, as provided by your super user. The web browser shows the Embarcadero Connect login page.
Enter your Username and Password, as provided by your super user.
Optionally, click "Remember me" to store your user credentials in the web browser, so that you do not need to enter them again.
Click Login.
You should now be logged in to Embarcadero Connect. If you are unsure of what to do next, see the User Guide.
See Also