FireUI Live Preview (IDE Options)
Go Up to Form Designer Options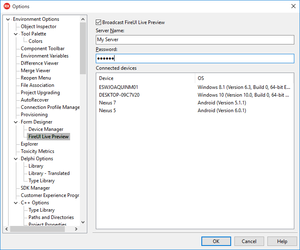 Tools > Options > Environment Options > Form Designer > FireUI Live Preview
The FireUI Live Preview page shows the options to configure the FireUI Live Preview server provided with RAD Studio.
Options
Item
Description
Broadcast FireUI Live Preview
To enable/disable broadcast to the connected clients.

Note: This option comes enabled by default.

Server Name
This is the server name that appears in the client application after discovering the servers.

Note: The name of the computer is used by default, and when the field is left empty.

Password
The password to connect to the server from the client application.

Note: The password comes blank by default.
Connected Devices Pane
The Connected devices pane shows a list of the devices connected to the server.
The list shows the device name and the OS.
To disconnect clients from the IDE:
Right-click a connected device from the list.
Click Disconnect Client.

See Also