AppWave ISV
The Vendor Portal is the gateway to an easy-to-use App store for Independent Software Vendors (ISVs). Once an ISV has self-registered for the AppWave Public Store , you can master and upload your apps.
The ISV apps are mastered using the AppWave Studio . During mastering you are asked to provide your vendor user and password. For more information on Mastering, see Mastering Apps.
Mastering the app provides the following:
App is "tamper-proof". Mastering helps prevent hacking your App once it is in AppWave .
Securing licensing -the App can run for x number of days. The .app itself is secure to prevent tampering with licensing information in metadata.xml.
As the ISV, you can either: disable the licensing in the executables; or provide a super key in the file or registry so that they are not opening their software up for easy privacy.
Once your apps are available in the AppWave Public Store , an interface is available so you can manage your products.
The workflow for adding an app is illustrated in the following diagram.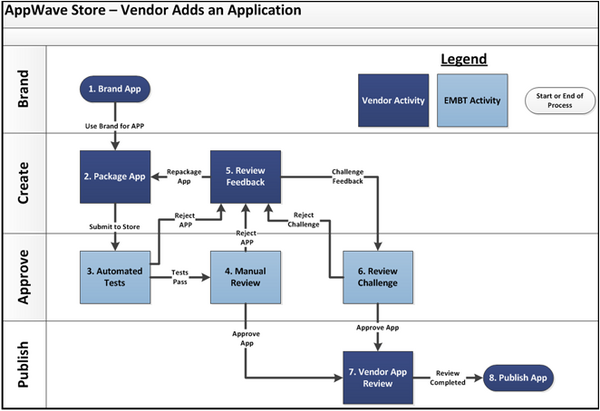 There are also two reports, a summary report, and a detail report, which track downloads, sales, customers, etc.
Note: Always make sure to consult the AppWave Readme for the latest updates.
AppWave ISV Topics
See Also