Shared Report Configuration Page
Go Up to Solution Browser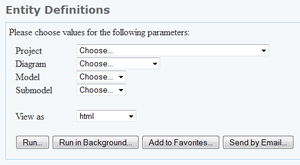 ER Tools > Shared Reports | click a shared report category | click a report (social users)
Shared Reports | click a shared report category | click a report (non-social users)
This page allows you to select the parameters and the output format of a shared report, and provides several related actions.
Input Fields
Right under "Please choose values for the following parameters", you can see a list of parameters that you can configure. The available parameters depend on the specific report that you selected.
The following input fields are available for any report:
| Field | Description |
| --- | --- |
| View as | Select the output format for your report. You can choose one of the following file formats: |
Actions
Action
Description

Run

Generates the target report immediately, and opens it in your web browser.

Run in Background

Generates the report in the background.

To view the status of shared reports generated in the background, select ER Tools > My Reports.

Add to Favorites

Adds the target report to your favorites. In the Add to Favorites dialog box that opens, you can share your report and make it public.

To view your favorite reports, select ER Tools > Favorite Reports.

Send by Email

Sends the generated report by email. In the Email Report dialog box that opens, enter the email address of the recipient.
See Also