Favorite Reports
Go Up to ER Tools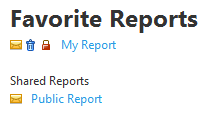 ER Tools > Favorite Reports (social users)
Favorite Reports (non-social users)
This page displays two lists:
The list at the beginning of the page contains shared reports that you made favorite.
The list under Shared Reports contains shared reports that other users made favorite and shared for public use.
Each item of the first list has the following appearance:
Items from the Shared Reports list have the following appearance instead:
<Report name>
The following table explains in details each part of a report item:
Item
Description


Send report results by email

Opens a window to send the current shared report by email. See Sending Reports By Email.


Delete favorite

Removes the target favorite report from the list of favorite reports.

Before removing the entry, you are prompted for confirmation. The target favorite report is not removed until you click OK in the dialog that opens. Click Cancel to abort the removal and keep the favorite report.

Indicates whether a favorite report is available for any user () or if only you have access to it ().

Click this icon to switch the target favorite report between both sharing states.

Report name

The name of the favorite report. This is the name you choose when you save the report.
See Also