IBConsole
From InterBase
Go Up to Main Page
InterBase provides an intuitive graphical user interface, called IBConsole, with which you can perform every task necessary to configure and maintain an InterBase server, to create and administer databases on the server, and to execute interactive SQL (isql). IBConsole runs on Windows, but can manage databases on any server on the local network. It is an all-in-one database tool, combining database administration, interactive SQL, and communications testing capabilities in one easy-to-use application.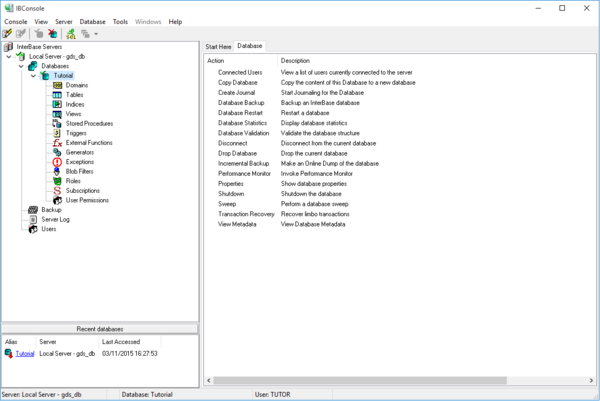 IBConsole enables you to:
Manage server security: Authorize new users, change user passwords, and remove users.
Manage server certificates (licenses).
Manage databases: Create new databases and set database properties.
Back up and restore a database.
Monitor database performance.
View server statistics.
Perform database maintenance, including:

Validating the integrity of a database.
repair a corrupted database.
sweep a database.
recover "limbo" transactions.

Manage local and remote servers.
Shut down and restart a database.
Execute SQL.
View database metadata in DDL script format.
IBConsole consists of:
A Main Window, the control center of IBConsole.
An Object View Window, which displays detailed information about database objects.
SQL Windows, which can be used to execute SQL statements and scripts.
A Text Viewer, used to display metadata, logfiles etc.
Several Visual Editors to create and alter database object definitions.
Topics
See Also