Home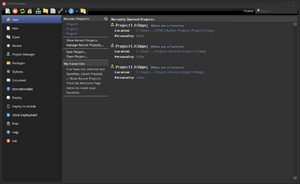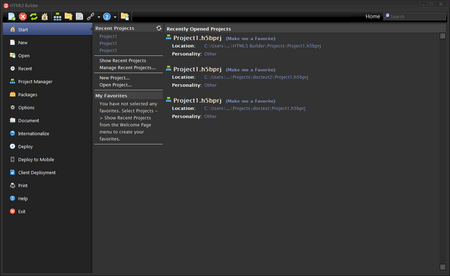 The Home view, accessible from the main toolbar, gives you access to several HTML5 Builder tools from its sidebar:
From here you can start a new project or create a new file.
Select a category from the left column treeview, and then double-click the type of project or file you want to create.
A single click on a project or file entry will open related information on the bottom-right frame.
Open

This entry will bring up a dialog from which you open files in your disk with HTML5 Builder.
Recent

This page lists the latest projects and files you've been working with, so you can easily access to them.
From this page you can manage your working project and files.
Packages

This page lets you manage your installed RPCL packages.
Options

From this page you can customize HTML5 Builder to fit your needs.
Document

This wizard generates automated API documentation frou your project's source code.
Internationalize

Use this wizard to generate the resources to localize your application to different languages.
Deploy

This wizard lets you deploy your application so you can install it on a web server.
Use this wizard to generate a client-side version of your mobile application.
Print

Click here to print the source code of the working file. The printed code will include syntax highlighting, line numbers, etc.
After you click Print, a dialog will pop up providing you with some customizable options before the file is sent to the default printer.

Note: If there is no open file, this option won't work.
Help

From here you can access the offline documentation for HTML5 Builder and some third-party technologies.
There are additional help resources you can access other than documentation.
Exit

Close HTML5 Builder.