NetBEUI Tab
From InterBase
Go Up to Communication Diagnostics

NetBEUI is supported on all Windows clients, but only Windows server platforms support NetBEUI as a server.
Use this property sheet to test NetBEUI connectivity between the client and the server.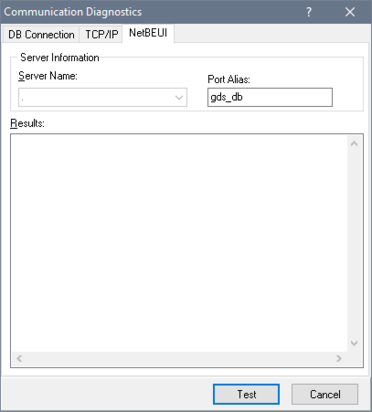 To run a NetBEUI connectivity test:
Select a Windows server on which InterBase has been installed from the Server Name drop-down list. If the desired server does not exist in this list, you can type the server name in the edit portion of the drop-down list.
Click Test to display the results of the connectivity test in the Results text area.
Sample output (NetBEUI connection):
Attempting to attach to DBSERVE using
the following named pipe:
\\dbserve\pipe\interbas\server'ds.db.
NetBEUI Communication Test Passed!

The connection may fail if a Microsoft Windows network is not the default network for the client. You should also be logged into the Windows network with a valid user name and password.
Back To: