Preferences
Go Up to User Menu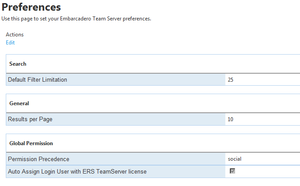 My Settings > Preferences
This page lets you configure your personal preferences as an Team Server user.
To edit your preferences, click Edit. After you update your preferences, click Apply Changes to save your changes, or Cancel Changes to discard them.
In this page you can edit the following settings:
Item
Description
Search

Default Filter Limitation

Default maximum number of filters that can be active for a search. You can click the colored circle to the right of the filter to turn on and off the filter limitation and display more or fewer filters as desired.

General

Results per Page

Default number of results per page displayed in the Comments page.

Global Permission

Permission Precedence

Default precedence of permissions for Repository Users. Just for Admin users.
See Also