Using the InterBase VAR License Portal
From InterBase
Go Up to InterBase VAR License Portal
When you click the link to the License Portal, the InterBase VAR License Portal login dialog opens.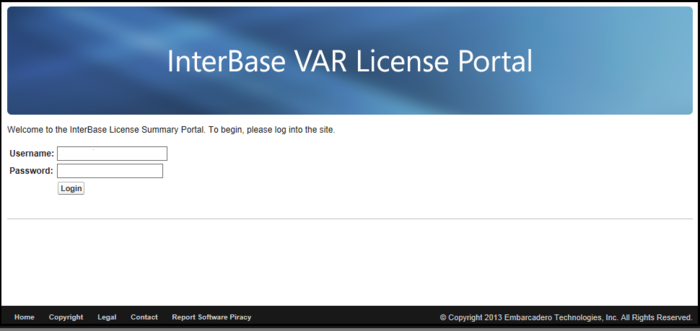 Enter your EDN Username and Password.

Go to http://edn.embarcadero.com to create an account

Click Login and the Welcome panel opens with five tabs:
The following functions are available on the bottom toolbar of each tab.
Additional Functionality Table
| Element | Description |
| --- | --- |
| Home | Opens the Welcome pane in the License Portal. |
| Copyright | Opens the Embarcadero copyright information for the License Portal application. |
| Legal | Displays the Privacy Statement including the privacy policy, use of personal information, use of Cookies, password management, and links to third party web sites. |
| Contact | Displays all the contact information for Embarcadero. |
| Report Software Piracy | Displays the NO Piracy dialog where you can file a report on suspected software piracy. This is a BSA/The Software Alliance website and is not maintained by Embarcadero. |
Next Topic