Deploying Your Unsigned Android Application
Go Up to Android Mobile Application Development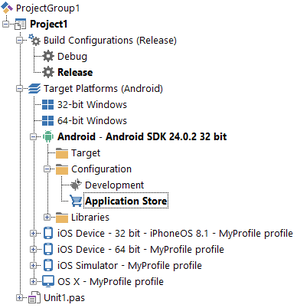 After you successfully configure your development environment for Android application development, you can deploy your application as an unsigned package. You can later upload the unsigned package to application stores that require unsigned packages, or you can manually sign your package using third-party tools.
Before you generate an unsigned application package, you must check the settings of your application, such as the application version, and update any settings that are incorrect. See Preparing an Android Application for Deployment.
To generate an unsigned package containing your application, do the following:
On the Projects Window, expand the Build Configurations node and double-click the Release configuration, or any other platform-agnostic configuration that you want to use to build your signed application package.
Expand the Target Platforms node and double-click the Android target platform to select that platform. The selected target platform is displayed using a bold font.
Expand the Android node, expand the Configuration node within, and double-click the Application Store platform configuration node to select that platform configuration. The selected platform configuration is displayed using a bold font.
Select Project > Options > Provisioning, and check that all fields are empty. Otherwise, click Reset All on the bottom-right corner to clear every field; then click OK.
Select Project > Deployment, and click the Deploy button to deploy your application.
RAD Studio builds your application using the configured Android SDK. RAD Studio shows an error message due to the lack of a keystore file to sign your application package, but since you do not want your package to be signed, this is OK.
You can find your unsigned application package (.apk) in your project folder:
<Your Project Folder>\Android\<Selected Configuration>\<Project Name>\bin\<Project Name>.apk
For example: C:\Users\<user>\Documents\Embarcadero\Studio\Projects\ProjectFolder\Android\Release\MyProject\bin\MyProject.apk.
See Also