Software Licensing Solutions
Go Up to Admin User Guide
When it comes to licensing software products, organizations want to maximize flexibility and manageability, while at the same time minimize what they spend.
Flexibility means using the software anywhere, anytime, on any machine, by any authorized user. Manageability demands the need to control, audit and report on license usage. Organizations may need to control who can acquire a license to use the software, and even when they can use it, for example from 9 a.m to 5 p.m. They may also want to reserve a license for a specific user in order to guarantee access when needed. Additionally, regulatory and compliance requirements impose additional stipulations and restrictions for tracking software access.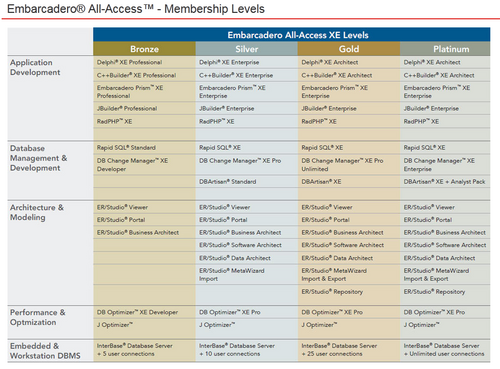 Embarcadero Licensing and Deployment Solutions
Embarcadero offers a variety of licensing options so organizations can more easily manage their software, while ensuring the end user has the tools they need, when they need them. Our Workstation option is perfect for individual users; while the network-based named and concurrent licensing options provide a flexible, cost-effective solution for organizations with a larger number of users, who want the ability to share and manage a pool of licenses. Embarcadero has licensing options available that fit the need of any size organization as well as for individual users.
Central Licensing Management with AppWave
AppWave simplifies license administration while providing a "mobile-like" App experience for Windows software. With AppWave you can save hundreds of hours spent manually tracking down who the users are, and who have and need (or do not need) an App license. You can also easily allocate and reallocate licenses when an employee or contractor comes on board or leaves a project. Compliance efforts are simplified with centralized license administration and tracking. AppWave works with Embarcadero products, popular commercial applications and internally developed Windows applications.
AppWave Edition Licenses
The AppWave licensing is based on the different editions: Workgroup, Department, Corporate and Enterprise. There is a specific price per user for each edition. Contact the sales department for information about the price: Sales Departament.
The different AppWave editions are differentiated by the 3rd party App capacity limit of the AppWave catalog.
Through License Automation, AppWave manages the licenses of custom 3rd party Apps you have mastered, either with or without using a custom template available from Embarcadero, ensuring license compliance.
Note: Free apps, Embarcadero XE installers and Apps, and Embarcadero provided AppWave templates for commercial and 3rd party Apps do not count towards the App capacity limits.
| Editions | Free | Workgroup | Department | Corporate | Enterprise |
| --- | --- | --- | --- | --- | --- |
| BYO App Capacity* | N/A | Up to 100 | Up to 500 | Up to 1000 | 1000+ |
| Free Store Apps | Unlimited | Unlimited | Unlimited | Unlimited | Unlimited |
| Embarcadero XE Apps | Unlimited | Unlimited | Unlimited | Unlimited | Unlimited |
| Price per User | Free | $1 | $1 | $1 | $1 |
| Price per Concurrent User | Free | x2 | x2 | x2 | x2 |
Note: BYO (Build your own) Apps are in-house and custom application titles.
You cannot combine the use of different edition licenses. For example, if you have a Workgroup license and decide that you need to increase the number of Apps in your catalog, then you must upgrade your license to one of the other available edition licenses.
When a new App is mastered and broadcast to AppWave or imported manually to AppWave , it is automatically added to the Licensed Apps folder.
The AppWave Admin Console has been updated to handle the new licensing model, enabling AppWave to enforce App and user capacity limitations, including admin alerts when capacity limits are reached that include information on how to acquire a license upgrade. You can configure AppWave to alert you when you have reached the limit of your AppWave Edition license by selecting Capacity Licensed limit in the Message Types section of System Properties > Email tab .
The following is an example admin alert:
Your AppWave license permits up to 100 apps (Workgroup edition). You have reached the maximum. Application "xmlmaker_c32 1.0.0.1 English Streamed Application for Windows" was not added to the catalog. "Please remove apps to add, or contact Embarcadero Technologies to upgrade your AppWave license".
AppWave users will be alerted to total user capacity limits when launching Apps that have reached the current maximum connection capacity limit.
The following is an example AppWave alert:
You have reached the maximum capacity of users allowed to be connected to the AppWave . Please notify your AppWave Administrator - or try again later.
Note: Admin notifications for licensing usage can be configured on the General tab of AppWave System Properties. For more information, see General Tab.
For information on configuring AppWave to use the AppWave Edition licenses to manage your apps and ensure license compliance, see Set Up 3rd Party Licenses.
Once you have decided which license fits better the needs of your organization, you have to purchase a concurrent or named license for that edition.
Embarcadero License Types
Trial Licenses
Trial licenses are available for all Embarcadero products for a period of 30 days from the time the license was issued. If you want to try an Embarcadero product, launch it from the AppWave . Starting a trial for one Embarcadero product gives you a trial license for all the products in the All-Access suite for 30 days. Once the trial period has expired you must purchase the app to continue using it.
AppWave trial licensing in AppWave 3.2.2 and higher allows for OnDemand suite trials which entitles one 30-day trial license for 100 apps/per user.
To set up a Trial License see Control License Usage.
Workstation
A Workstation license is locked to one machine ("node-lock") or one person ("named user"). A node-locked Workstation license can be installed on only one machine and cannot be used concurrently. A named user Workstation license is registered to an individual and the named user is the only person permitted to use the product. The Workstation licensing options work best for power-users who need a copy of the software available on their workstation at all times. Workstation licenses are required to create an Embarcadero Developer Network account in order to register their product. A Workstation license does not require installation of a license server.
Network Named User
Network Named User is similar to Workstation licensing in that a license is designated to an individual. Licenses are managed over a network using AppWave . An administrator installs AppWave on a central location on your network where users are authorized to operate the product. The Network Named User is guaranteed access to that license at all times or until the Administrator revokes access.
This option has many advantages including centralized administration, fast and easy provisioning and de-provisioning of software assets, and asset management features including usage reports.
Network Concurrent
Network Concurrent licenses are managed through AppWave . It provides users with the flexibility of using any Embarcadero product, but will only acquire a license when the application is open. This license option tracks the number of simultaneous users. If the number of simultaneous users exceeds the number of purchased licenses, anyone who subsequently tries to start the software is denied access.
Network Concurrent licenses are only valid for the global region in which they are sold. Global contracts can be purchased on a contractual basis. Please contact your sales representative for more information.
Embarcadero All-Access License Options
Embarcadero All-Access is a membership model which includes access to the specified products within each membership level (there are 3 levels), as well as support and maintenance for the duration of an active membership. The same four types of licenses for Embarcadero All-Access can be applied to any of the three levels: Workstation, Networked Named and Network Concurrent. All-Access licenses are perpetual and can continue to be used, installed, and reinstalled even if annual All-Access membership is not renewed.
All-Access licenses are managed by AppWave .
For product and pricing information about Embarcadero All-Access contact your sales representative or read more at Embarcadero All-Access.
See Also