Welcome
From AppWave
This documentation site covers every AppWave feature in detail. If you are just getting acquainted with AppWave, it is highly recommended you start by reading this section to understand the different parts of the product.
About this Document
This Welcome document provides an overview of the different parts of AppWave.
Note: Always make sure to consult the AppWave Readme for the latest updates.
General Description of AppWave
AppWave allows companies instant access to applications.
AppWave Enterprise Store
---
The AppWave Enterprise Store lets you centrally provision, manage and update products and licenses inside your own firewall. AppWave is lightweight software that centrally manages Applications and licenses. You control what product versions are available to end users from their AppWave Browser. With network licensing, you can use AppWave to centrally control the list of authorized users. AppWave also supports you in managing many third-party Applications that can be mastered as Apps in AppWave Studio. Using AppWave Studio, you can also broadcast in-house developed Applications. AppWave lets you simplify licensing, reduce costs, and control access by consolidating, centralizing, and standardizing on how you deliver Applications. Database professionals and Application developers have on-demand access to Embarcadero Applications when they need them. You can run multiple versions side-by-side, and adapt tool sets by project and platform to respond faster to changing business demands.
The AppWave Enterprise Store is for Windows software acquired by and made available within organizations for fast and easy "mobile-like" access to software. All the end users in your organization can search, browse, and run Windows software instantly, from anywhere. Administrators can track software usage real time with comprehensive reports on demand. These reports give you critical information needed to track what software to maintain and support.

To learn more about the AppWave Enterprise Store go to AppWave Quick Start.
AppWave Browser UI Overview
AppWave consist of different parts. If you are planning to use AppWave to run Applications from the AppWave Public Store you will use the AppWave Browser with the Apps Tab. However, if you are planning to create an AppWave infrastructure within your company then you need to install and configure the Appwave Host to distribute the AppWave Browser and Apps to the users. The AppWave Browser also allows you to administer and configure the Host through the Admin tab.
The AppWave Browser is a lightweight client that is the primary entry point for the various products used with AppWave. It allows users to launch, install, update, review, and select product versions, all from a single interface. It also provides access to AppWave Administrative functions for a company environment. It is composed of two different parts:
AppWave Apps
A client that allows you to manage the Apps, either for a user of the Public Store or for an employee in a company. For more information, see Using AppWave Browser.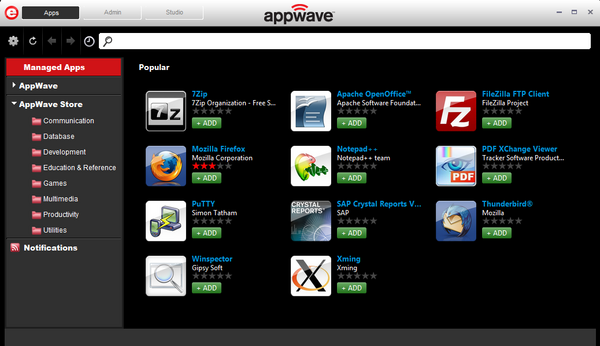 AppWave Administrator
An admin console Application for an enterprise environment where you can create users and licenses. For more information, see the Admin Quick Start and the Admin User Guide.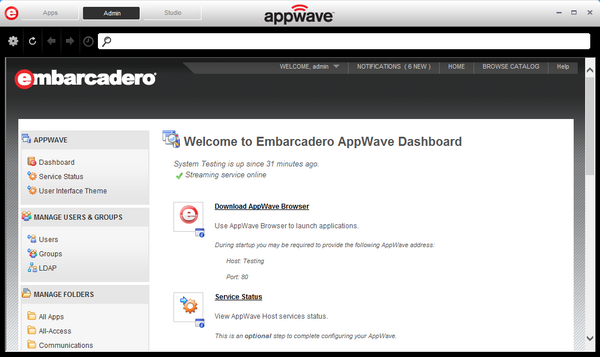 To learn more about the different parts of the AppWave Browser go to:
Additional Product Information
The Embarcadero Web site provides access to information and resources useful through the life of your product, including: